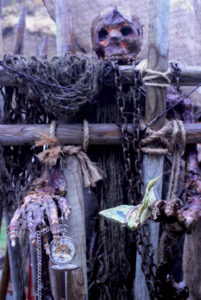 We're coming into the final weekend of Haunting Ellensburg's 2017 HEllburg Village, which means patrons have to start asking themselves the question, "Do I prioritize my time or money when choosing my HEllburg tickets?" Over the past few weeks we have been privileged to serve haunt-goers from all over the Pacific Northwest, including groups who traveled from Idaho and the coast just to experience our one-of-a-kind Old West-themed immersive haunted attraction, but experience has taught us that many haunt-goers still wait until the very last weekend for their scares.
Our amazing volunteer-actors stay on site and continue scaring patrons right up until the last patron in line with a ticket is served, so you don't have to worry about missing out if you purchase your ticket by 10pm. But, wait times have been known to get long on the weekend closest to Halloween, sometimes up to 2-3 hours for the General Admission line (depending upon what time you purchase your ticket and get in line).
If you want to reduce your wait times, we always have VIP Tickets available which move you to the fast-lane for entrance into the event. Those can be purchased online at BrownPaperTickets.com (day-of tickets available until noon) or on-site. Ticket upgrades, if you decide you want to move faster in line, are also available on-site at our Admissions desk. We also have a set of tips for patrons who are dying to get in but don't want to spend extra money.
While we process groups through the haunt as fast as we can we also believe that no group, once inside, should feel rushed through their experience and be cheated from the full immersive experience we offer. Every patron, regardless of what kind of ticket they hold, deserves the best experience we can provide.