Boneyard Barn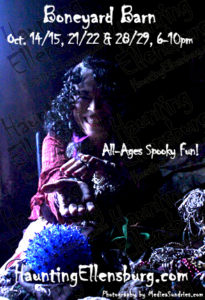 Haunting Ellensburg presents… Boneyard Barn:
Come to our all-ages attraction and travel through our indoor maze at your own pace! With each scene more spooky than the last, can your whole family make it through all the way to the end? Designed as an option for Halloween-themed entertainment the whole family can enjoy together and with increased accessibility, Boneyard Barn is wheelchair and stroller-accessible. In this event, our actors are instructed to tone their scenes down (or up) to the appropriate level for the youngest members of any given group, doing their best to ensure a positive spooky experience for your family.
Children who can make it through the end of Boneyard Barn may take it as a sign that they might be ready to graduate up to the toned-down "Kiddie" hour of HEllburg Village (6-7pm), at parental discretion!
BONEYARD BARN: $5 per entry, or FREE with purchase of HELLBURG VILLAGE ticket. One ticket, one entry.